Autumn Shepherd's Pie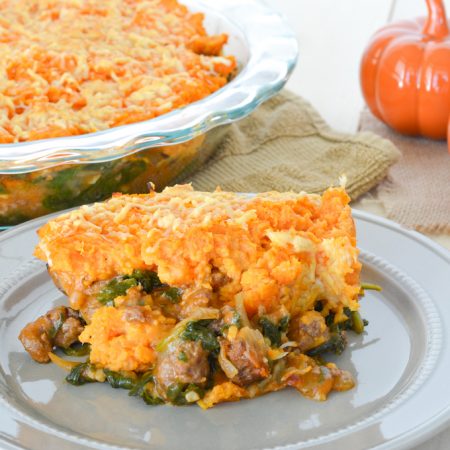 2 medium sweet potatoes
1½ tbsp butter
1½ tbsp cream or milk
Salt & pepper
2 tsp extra-virgin olive oil
½ cup chopped onion
12 oz lean ground beef
2 tbsp all-purpose flour
1 tbsp tomato paste
2 cloves garlic, minced
1 cup beef or chicken broth
6 oz baby spinach, roughly chopped
⅓ cup grated Parmesan cheese
Peel sweet potatoes and cut into chunks. Place in a small pot and cover with water. Bring to a boil and boil until tender, about 10 minutes. Drain potatoes and return to pot. Add butter and cream, and mash potatoes. Season with salt & pepper.
Preheat broiler.
Heat oil in a large skillet over medium-high heat. Add onion and cook, stirring, until beginning to soften, about 2 minutes.
Reduce heat to medium, stir in beef and cook, stirring, until the beef is mostly browned, about 3 minutes.
Drain excess grease from beef, then return to heat and add flour, tomato paste and garlic, cooking an additional 2 minutes.
Add broth, scraping up any browned bits with a wooden spoon. Bring to a boil and cook, stirring occasionally, until the broth is the consistency of thick gravy, about 4 minutes.
Stir in spinach, season with salt & pepper, and cook until the spinach is just wilted, about 1 minute. Remove from heat.
Transfer the meat mixture to a pie pan or casserole dish. Top with mashed sweet potatoes. Sprinkle cheese on top.
Broil until heated through and bubbling around the edges, about 10 minutes. Sprinkle with cheese and broil 3 minutes more. Remove from oven and serve!