Blueberry Muffin Baked Oatmeal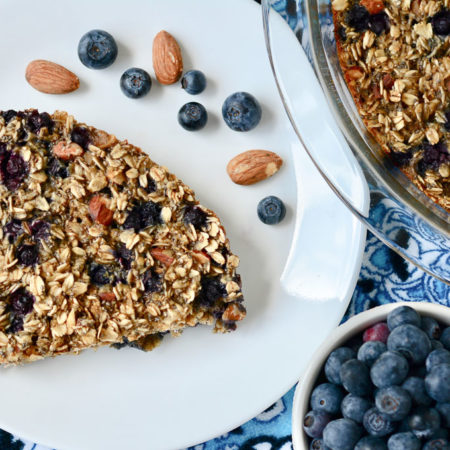 1½ cups old fashioned rolled oats
⅓ cup light brown sugar
1 tsp baking powder
1 tsp cinnamon
½ tsp salt
¾ cup milk
2 eggs
1 tsp vanilla extract
2 tbsp chia seeds (optional)
¼ cup almonds, chopped
½ cup blueberries, fresh or frozen
Preheat the oven to 350 degrees. Spray a 9-inch pie dish or 8x8 casserole dish with nonstick spray and set aside.
In a large bowl, combine oats, brown sugar, baking powder, cinnamon and salt.
Add the milk, eggs and vanilla, and mix well.
Stir in chia seeds, almonds and blueberries.
Pour into baking dish and cover with foil.
Bake for 30 minutes, remove foil and continue to bake an additional 5 minutes.
Cool slightly and enjoy!
Recipe by
Flying on Jess Fuel
at https://www.jessfuel.com/2011/04/20/blueberry-muffin-baked-oatmeal/