Rainier Cherry Pie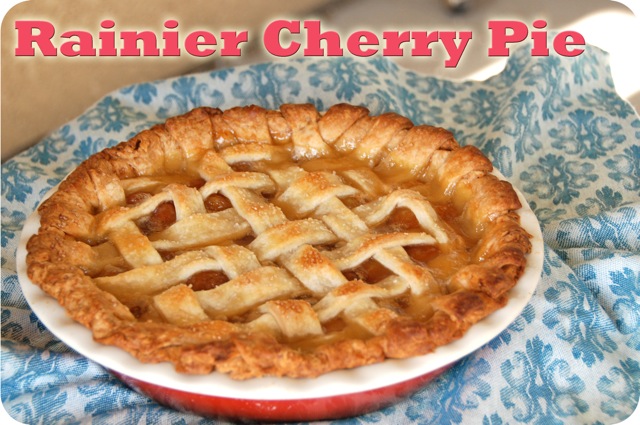 for the crust:
2¾ cups all-purpose flour
1 tbsp sugar
1 tsp salt
1 cup (2 sticks) unsalted butter, cold and cut into cubes
½ cup cold water
1 tbsp heavy cream (for brushing
Raw sugar, for sprinkling
for the filling:
5 cups fresh Rainier cherries, stemmed and pitted
⅓ cup plus 2 tbsp sugar
1 tbsp lemon juice
¼ tsp vanilla extract
1 tbsp cornstarch
Put the flour, sugar and salt in a food processor. Process for 30 seconds.
Add the butter and pulse for 30 seconds to produce coarse crumbs.
With the motor running, add the water and process just until the dough starts to come together.
Pour the dough out onto a floured counter and press into 2 disks. Wrap each disk in plastic wrap and refrigerate for an hour before rolling out.
Preheat oven to 400 degrees.
On a lightly floured surface, roll out one disk of crust into a circle.
Gently place the pastry into a 9½-inch pie dish. Place in the freezer for 15 minutes.
Meanwhile, in a large bowl, combine the cherries, ⅓ cup sugar, lemon juice, and vanilla. Mix well and set aside to juice for 10 minutes.
Combine the remaining 2 tablespoons sugar and cornstarch in a small bowl. Stir this into the cherries.
Pour cherries into the pie crust.
Roll out the second disk and cut into strips.
Crisscross the strips over the top of the pie in a lattice design and crimp down the edges.
Brush the lattices with heavy cream and sprinkle with raw sugar.
Bake for 30 minutes.
Reduce the oven temperature to 375 degrees, turn the pie 180 degrees, and bake for another 35 to 40 minutes.
Let the pie sit for at least 2 hours before serving.