Fig and Goat Cheese Muffins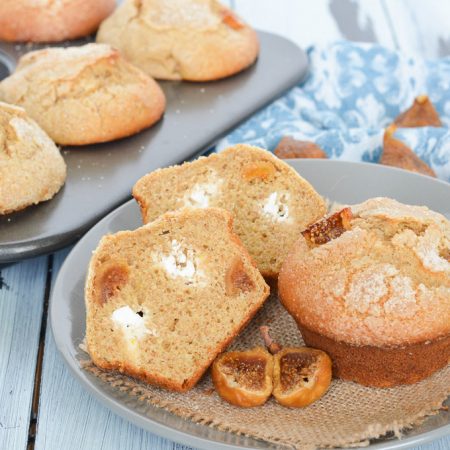 ¾ cup crumbled goat cheese
2 tbsp honey
1 tsp freshly grated lemon zest
1¼ tsp vanilla extract, divided
1 cup all purpose flour
1 cup whole wheat flour
1½ tsp baking powder
½ tsp baking soda
¼ tsp salt
2 large eggs
1 large egg white
¾ cup packed brown sugar
1 cup low-fat buttermilk
⅓ cup extra-virgin olive oil
1¼ cups chopped dried figs
3 tablespoons turbinado or granulated sugar
Preheat oven to 425°F. Coat a 12-muffin tin with cooking spray.
Thoroughly combine goat cheese, honey, lemon zest and ¼ teaspoon vanilla in a small bowl and set aside.
Whisk flour, baking powder, baking soda and salt in a large bowl.
Lightly beat eggs and egg white in a medium bowl. Add the brown sugar and the remaining 1 teaspoon vanilla and whisk until the sugar is dissolved, about 1 minute. Gradually whisk in buttermilk and oil until smooth.
Add the wet ingredients to the dry ingredients and stir until just combined. Fold in the figs.
Spoon half the batter into the prepared muffin cups.
Add heaping teaspoons of the cheese filling to the center of each muffin, and cover with the remaining batter. (Make sure the cheese is fully covered. Also make sure you actually follow this advice. I did not, and, I ended up a few cheese explosions...)
Sprinkle the muffins with sugar.
Bake the muffins until the edges start to brown and the tops spring back when gently pressed, 13 to 15 minutes.
Let cool in the pan for 5 minutes, then transfer to a wire rack to cool.
Recipe by
Flying on Jess Fuel
at https://www.jessfuel.com/2013/01/13/fig-and-goat-cheese-muffins/