Hot Cocoa Cookies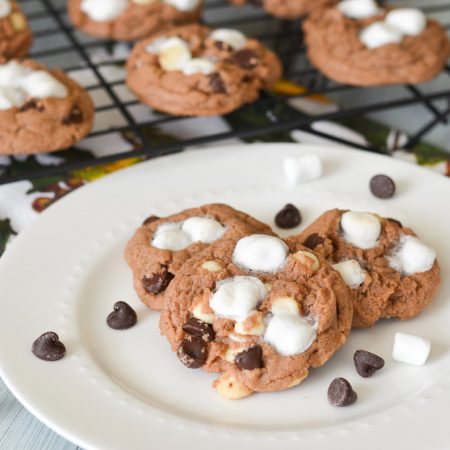 1 cup sugar
⅔ cup brown sugar
2 sticks room temperature butter
2 eggs
1 tsp vanilla
3¼ cups flour
4 packages Hot Cocoa Mix (or 8 tbsp)
1 tsp salt
1¼ tsp baking soda
1 cup white chocolate chips
1 cup semi-sweet chocolate chips
2 cups mini marshmallows
Preheat oven to 350 degrees.
Using an electric mixer, beat together sugars and butter until fluffy. Add eggs & vanilla and continue beating.
In another bowl, whisk together dry ingredients. Slowly add dry ingredients to the butter mixture. Add chocolate chips.
Shape into 1 inch balls and drop onto a lined sheet. Bake 7-8 minutes, remove from oven and lightly press a few marshmallows in the top of each cookie. Return to oven and bake an additional 3-4 minutes.
Let cool a few minutes on the pan, then transfer to wire racks.