Fruitcake Cookies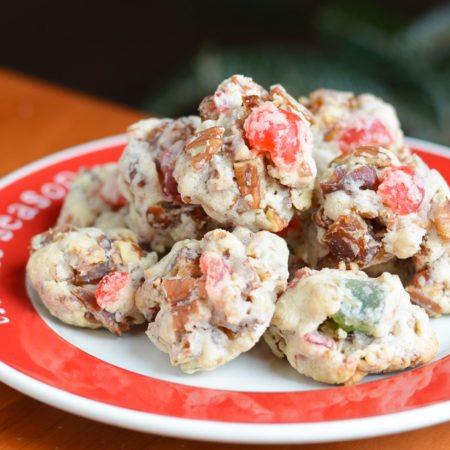 2 lbs pitted dates
½ lb candied cherries
½ lb candied pineapple
3½ cups coarsely chopped pecans
3½ cups all purpose flour
1 tsp baking soda
1 tsp salt
1 tsp cinnamon
1 cup butter
1½ cups sugar
2 eggs
Preheat oven to 325 degrees.
Cut the dates into small chunks. Cut the cherries into quarters and pineapple into slivers.
Combine fruit and nuts in a large bowl.
Combine flour, baking soda, salt and cinnamon, and sift it over the fruit and nuts. Stir everything to evenly coat with flour mixture.
Use an electric mixer to beat together the butter and sugar until fluffy. Add the egg and continue beating until combined.
Combine the butter mixture with the fruit and flour mixture, and mix everything well by hand.
Form teaspoon sized balls of dough and place onto lined or greased baking sheets.
Bake for 15 minutes. Do not overbake.