Chocolate Mint Chip Cookies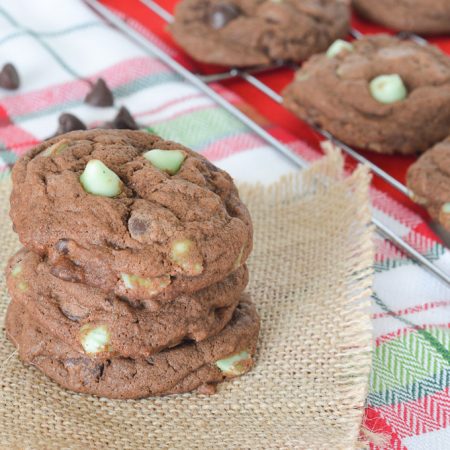 2¼ cups flour
1 tsp salt
1 tsp baking soda
2 sticks butter, softened
1 cup sugar
1 cup packed brown sugar
2 large eggs
1 tsp peppermint extract
½ cup unsweetened cocoa
2½ cups mint chocolate chips
Preheat oven to 375 degrees.
In a bowl, combine flour, salt and baking soda.
Using an electric mixer, beat together butter and sugars until fluffy.
Add eggs, peppermint extract and cocoa powder and continue beating.
Slowly add the flour mixture and beat until well combined.
Fold in mint chips.
Drop heaping teaspoons of dough one a parchment or silpat lined cookie sheet.
Bake 10 minutes until set. Transfer to a cooling rack to cool.
Recipe by
Flying on Jess Fuel
at https://www.jessfuel.com/2012/12/01/12-days-of-christmas-cookies-chocolate-mint-chip-cookies/