Crock Pot Chicken and Dumplings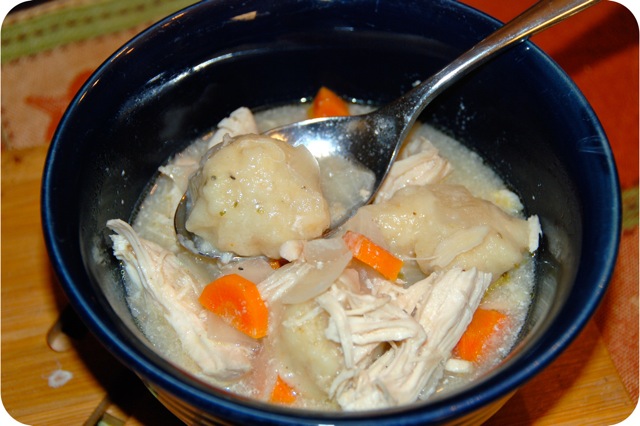 1 medium onion, diced
2 medium carrots, chopped
3 garlic cloves, minced
2.5 lbs boneless, skinless chicken breasts
Salt & pepper, to taste
48 ounces chicken broth
2 tbsp butter
2 tbsp flour
½ cup half and half
for the dumplings:
1⅛ cups all-purpose flour
1½ tsp baking powder
1 tsp granulated sugar
½ tsp salt
¼ tsp pepper
¼ tsp dried thyme
¼ tsp dried rubbed sage
Pinch cayenne
2 tbsp cold butter, cut into small pieces
½ cup milk
Add onions, carrots and garlic in the bottom of the crock pot.
Season the chicken breasts with salt and pepper and add to crock pot on top of the veggies.
Melt butter in a small saucepan over medium heat.
Whisk in flour and cook for 2-3 minutes, until golden brown.
Add 2 cups of chicken stock and mix well. Bring to a light boil and cook for 4-5 minutes, stirring frequently. Remove from heat and pour into the crock pot.
Add remaining chicken stock, cover and cook on low for 6 hours.
After 6 hours, turn the crock pot to high.
Remove the chicken from the crock pot and lightly shred it.
Stir half and half into the crock pot, then add the chicken back in and cover.
In a bowl, combine flour, sugar, baking powder, salt & pepper, thyme, sage and cayenne.
Cut in butter with a pastry cutter, 2 knives, or your fingers until it's evenly dispersed and coarse crumbs form.
Add milk and stir until a sticky dough forms.
Scoop tablespoons of dough into the crock pot, covering the chicken mixture evenly.
Cover and cook for another 1-1.5 hours, until dumplings are cooked but soft and not longer raw in the middle.
Serve immediately.
Recipe by
Flying on Jess Fuel
at https://www.jessfuel.com/2012/11/29/crock-pot-chicken-and-dumplings/