Apple Cinnamon Quick Bread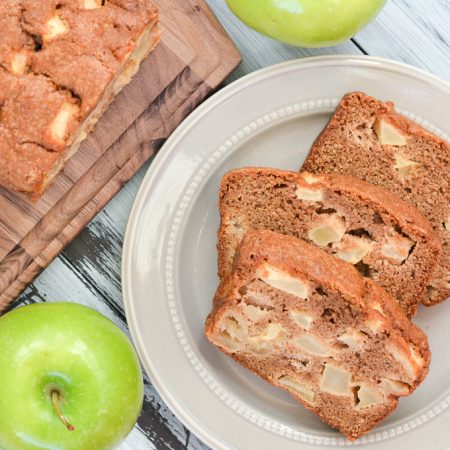 1 cup all purpose flour
½ cup whole wheat flour
½ tsp baking soda
½ tsp salt
1 tsp cinnamon
½ cup butter, softened
⅓ cup sugar
½ cup brown sugar
2 eggs
1 tsp vanilla extract
2 large Granny Smith apples, peeled, cored and diced
Preheat oven to 350 degrees.
In a bowl, whisk together flours, baking soda, salt and cinnamon. Set aside.
Using an electric mixer, cream together the butter and sugars until light and fluffy. Beat in the eggs and vanilla.
Add the dry ingredients to the wet a little at a time, mixing well between each addition, until combined. Fold in the apples.
Pour into a nonstick-sprayed loaf pan.
Bake 50-60 minutes, until a toothpick inserted into the center comes out clean.
Recipe by
Flying on Jess Fuel
at https://www.jessfuel.com/2012/10/15/apple-cinnamon-quick-bread/