Cranberry White Chocolate Pumpkin Bars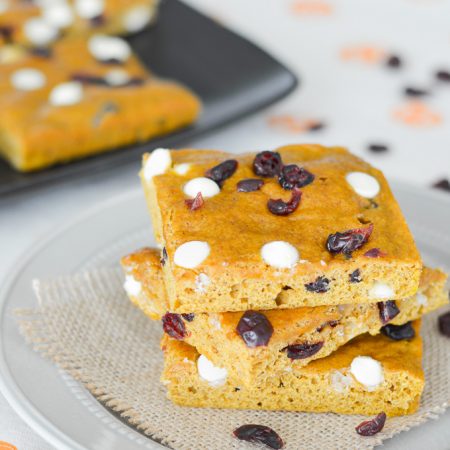 ½ cup canned pumpkin
2 whole eggs
1 egg white
1 tbsp canola oil
1 cup flour
1 tsp baking powder
½ tsp ground cinnamon
½ tsp ground allspice
½ tsp ground ginger
pinch ground nutmeg
¼ tsp salt
⅔ cup brown sugar, packed
½ cup dried cranberries
½ cup white chocolate chips
Preheat oven to 350˚F.
Line the bottom of a 9×13 inch pan with parchment paper.
In a large bowl, combine pumpkin, eggs and oil until smooth.
In another bowl, mix together the flour, baking powder, spices, salt and brown sugar.
Add to the wet ingredients and mix well.
Stir in the cranberries and white chocolate chips (save a few to sprinkle on top, if desired). Pour into prepared pan and spread evenly.
Bake for 15 – 20 minutes until set. Cool completely before cutting.
Recipe by
Flying on Jess Fuel
at https://www.jessfuel.com/2012/09/17/pumpkin-pilots-cranberry-white-chocolate-pumpkin-bars/