Crock Pot Thai Pork with Peanut Sauce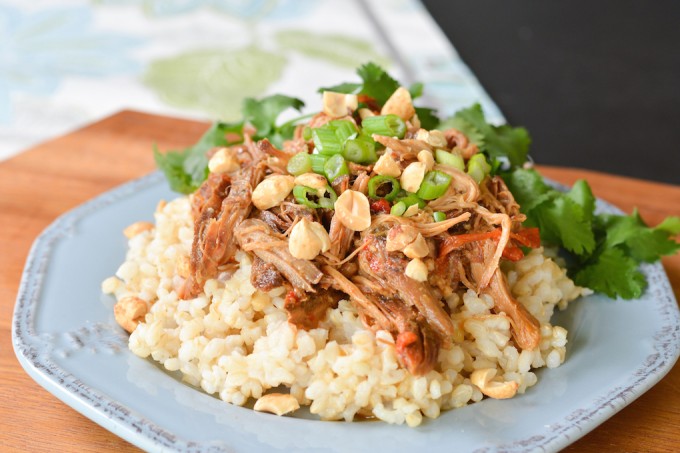 2 lbs pork tenderloin
2 red bell peppers, cut into strips
½ cup teriyaki sauce
2 tbsp rice vinegar
1 tsp red pepper flakes
3 cloves garlic, minced
¼ cup creamy peanut butter
Green onions, sliced, for serving
Roasted peanuts, chopped, for serving
Fresh cilantro, chopped, for serving
Sriracha sauce, for serving
Place pork and peppers in the bottom of a slow cooker. In a bowl, combine teriyaki sauce, rice vinegar, red pepper flakes, and garlic. Pour over pork.
Cover and cook on low for 8-9 hours.
Carefully remove pork from slow cooker and shred.
Mix peanut butter with sauce in slow cooker until peanut butter dissolves.
Toss the pork back in slow cooker and coat with the sauce.
Serve over rice, topped with green onions, peanut, cilantro and sriracha!
Recipe by
Flying on Jess Fuel
at https://www.jessfuel.com/2012/09/10/crock-pot-thai-pork-with-peanut-sauce/