Chicken Barley Chili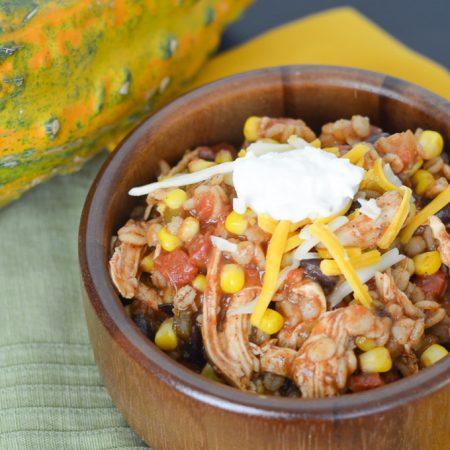 1 can (14.5 oz) diced tomatoes with chilis, undrained
1 jar (16 oz) medium salsa
1 can (14.5 oz) chicken broth
4 cups water
1 cup barley
1½ tbsp chili powder
2 tsp cumin
1 can (15 oz) black beans, rinsed and drained
2 cups frozen sweet corn
3 large chicken breasts, poached and shredded
In a large stockpot, combine the first 7 ingredients.
Bring to a boil, then cover and simmer on low heat for approximately 35-40 minutes.
Add beans, corn, and chicken, then bring to a boil again.
Reduce heat, cover, and simmer on low for an additional 5 minutes. Check barley to make sure it is soft and cooked through.
Serve and top with sour cream, cheese and/or cornbread crumbles!