Hot & Sour Soup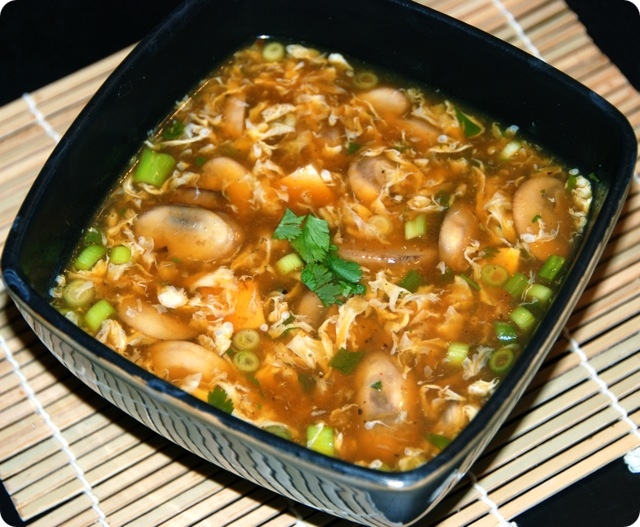 Author:
Flying on Jess Fuel
2 tsp olive oil
2 tsp dark sesame oil, divided
¼ tsp red pepper flakes
1 pkg sliced mushrooms
3 garlic cloves, minced
1 tbsp minced or grated fresh ginger
1 (32oz) carton vegetable broth
2¼ cups water, divided
½ cup rice vinegar
1 tbsp soy sauce
1 tsp fresh ground black pepper
½ lb firm or extra firm tofu, diced
2½ tbsp cornstarch
Salt, to taste
Cayenne pepper, to taste
4 egg whites lightly beaten
½ cup chopped green onions
¼ cup minced fresh cilantro
Heat olive oil and 1 tsp sesame oil in a large pot over medium heat. Add red pepper flakes and cook 1 minute. Add mushrooms and saute until soft and browned. Add garlic and ginger and continue sauteing 1-2 minutes, until fragrant.
Add vegetable broth and 2 cups water. Bring to a boil, then reduce heat and simmer 5 minutes.
Add vinegar, soy sauce, pepper and tofu, and simmer another 3 minutes.
In a small bowl, whisk together remaining ¼ cup water and cornstarch. Add to pot and continue simmering 3 additional minutes, stirring frequently.
Season to taste with salt & cayenne (I like it spicy, so I used about ¼ tsp cayenne).
Slowly stream egg whites into the pot while stirring continuously.
Remove pot from heat and stir in green onions, cilantro, and remaining 1 tsp sesame oil.
Serve immediately.