Pina Colada Bars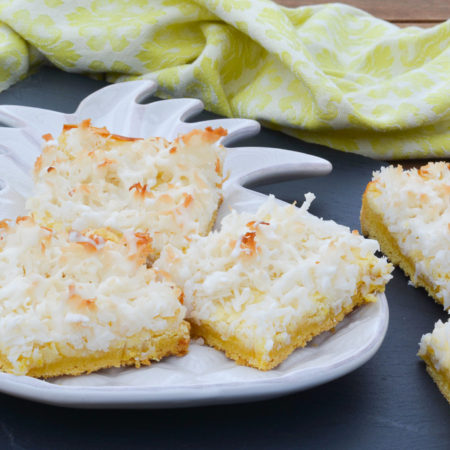 for the crust:
1 box yellow cake mix
1 stick butter, melted
1 egg
for the filling:
1 pkg (8 oz) cream cheese, softened
2 tbsp sugar
2 tbsp milk
1 tsp vanilla extract
1 egg
1 can (8 oz) crushed pineapple, drained
1½ cups shredded sweetened coconut
for the glaze:
1 cup powdered sugar
¼ tsp vanilla extract
1-2 tbsp milk
Preheat oven to 350 degrees.
In a large bowl, combine the cake mix, melted butter and egg until a dough forms.
Use your hands to spread the dough evenly in the bottom of a greased 9 x 13 pan. Set aside while you prepare the filling.
Using a mixer, beat the cream cheese, sugar, milk, vanilla and egg together until smooth and creamy.
Stir in the well-drained crushed pineapple to combine.
Spread the cheese mixture over the crust and bake for 15 minutes.
Sprinkle the par-baked bars with coconut and continue to bake for another 10-15 minutes, until center is set and coconut is lightly golden and toasted.
Allow bars to cool completely in the pan before preparing the glaze.
In a small bowl, combine the powdered sugar, vanilla and 1 tbsp milk. Add more milk a few drops at a time until the glaze is runny enough to drizzle.
Drizzle over the bars, then refrigerate the bars for at least 2 hours before cutting into squares.