Chocolate Chip Peanut Butter Banana Muffins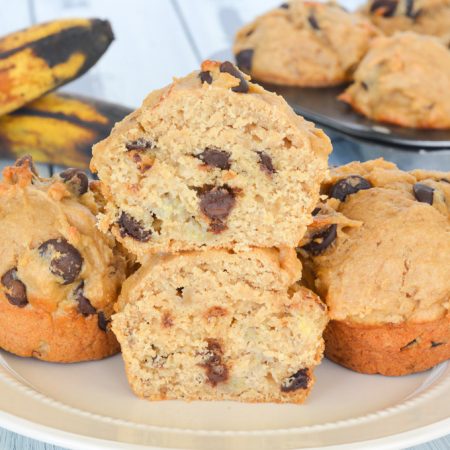 2½ cups white whole wheat flour
¼ cup sugar
¼ cup light brown sugar
1 tbsp baking powder
¾ tsp salt
½ tsp cinnamon
2 large ripe bananas (1¼ cups mashed)
1 cup milk
¾ cup peanut butter
2 tbsp oil (I used avocado, but vegetable or canola would work)
1 tsp vanilla
1 large egg
1 cup semi-sweet chocolate chips
Preheat the oven to 350 degrees.
In a large mixing bowl, combine flour, sugars, baking powder, salt and cinnamon.
In another mixing bowl, mash the bananas.
To the mashed banana, add the milk, egg, vanilla, oil and peanut butter and mix well.
Pour the wet ingredients into the dry and mix until just combined.
Fold in the chocolate chips.
Pour the batter into 12 muffin tins lined with cupcake liners or sprayed with nonstick spray.
Bake for 25-30 minutes, or until a toothpick comes out clean.
Recipe by
Flying on Jess Fuel
at https://www.jessfuel.com/2011/03/23/chocolate-chip-peanut-butter-banana-muffins/