Blueberry Oatmeal Muffins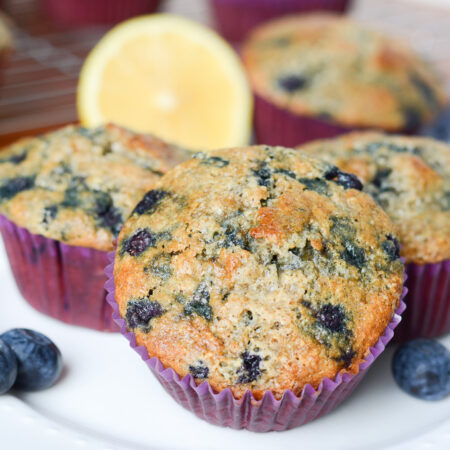 1⅔ cups old fashioned oats
⅔ cup all-purpose flour
½ cup whole wheat flour
¾ cup packed light brown sugar
2 tsp cinnamon
1 tsp baking powder
1 tsp baking soda
¾ tsp salt
1½ cups buttermilk
¼ cup avocado (or canola) oil
2 tsp lemon zest
2 eggs
2 cups frozen blueberries
2 tbsp all-purpose flour
Sugar, for sprinkling
Preheat oven to 400°.
Place oats in a food processor or blender and pulse until oats resemble coarse meal.
Pour oats in a large bowl and add flours, sugar, cinnamon, baking powder, soda and salt. Mix well.
In another bowl, combine buttermilk, oil, lemon zest, and eggs. Mix well.
Add to flour mixture to wet ingredients and stir just until moist.
In another bowl, toss berries with 2 tablespoons flour. (This prevents them from all sinking to the bottom of the muffins. If you use fresh blueberries, you can skip this.)
Fold the blueberries into the batter.
Spoon batter into 16 muffin cups lined with cupcake liners or coated with cooking spray, and sprinkle sugar on top of each cup.
Bake 20 minutes or until muffins spring back when touched lightly in the center.
Remove from pans immediately and cool on a wire rack.
Recipe by
Flying on Jess Fuel
at https://www.jessfuel.com/2011/12/13/blueberry-oatmeal-muffins/