Almond Pear Baked Oatmeal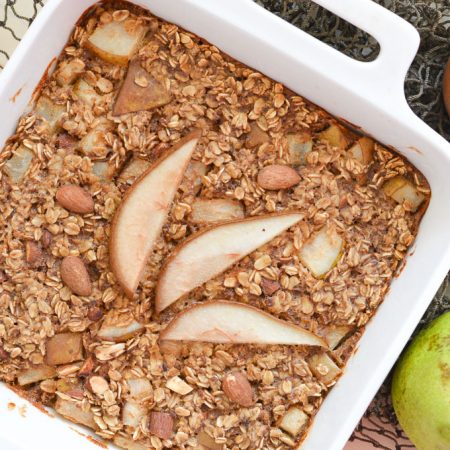 1½ cups rolled oats
⅓ cup brown sugar
1 tsp baking powder
1 tsp cinnamon
½ tsp salt
½ cup milk
1 egg
¼ cup Greek yogurt
1 tsp almond extract
1 ripe pear, diced
¼ cup raw unsalted almonds, roughly chopped
Preheat oven to 350 degrees.
In a large bowl, combine oats, sugar, baking powder, cinnamon and salt.
Beat in milk, egg, extract and yogurt.
Stir in pear and almonds.
Pour mixture into an 8x8 inch pan, sprayed with nonstick spray.
Cover with foil and bake 30 minutes. Remove foil and bake an additional 10 minutes.
Serve as is, drizzled with a little maple syrup, or with a little milk poured over top. The milk works especially well when reheating leftover portions!
Recipe by
Flying on Jess Fuel
at https://www.jessfuel.com/2011/11/15/almond-pear-baked-oatmeal/