Double Chocolate Cookies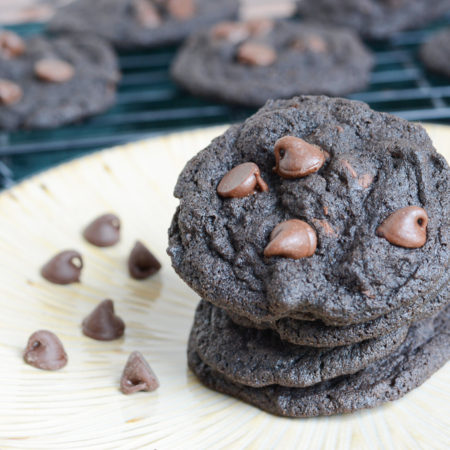 1¼ cups butter, softened
2 cups sugar
2 eggs
2 tsp vanilla extract
2 cups all-purpose flour
¾ cup cocoa powder
1 tsp baking soda
½ tsp salt
2 cups semi-sweet chocolate chips
Preheat oven to 350 degrees.
Using an electric or stand mixer, cream together butter and sugar until light and fluffy.
Beat in eggs and vanilla.
In another bowl, combine flour, cocoa powder, baking soda and salt.
Gradually add the flour mixture to the butter mixture. Mix until well combined.
Stir in the chocolate chips.
Drop by rounded teaspoons onto greased baking sheets 2 inches apart.
Bake about 10 minutes until set.
Cool on pans 2 minutes before transferring to a wire rack.