Cheddar Jalapeno Cornbread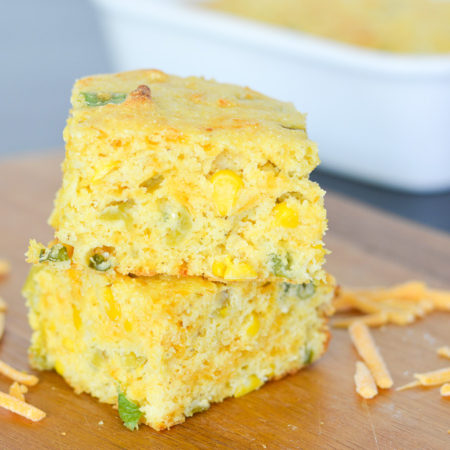 1¼ cups yellow cornmeal
¾ cup all-purpose flour
2½ tsp baking powder
½ tsp salt
1 cup + 2 tbsp buttermilk (or 1 cup + 1 tbsp milk and 1 tbsp vinegar)
1 large egg
2 tbsp honey
¼ cup scallions, chopped
1 cup frozen corn, thawed
1 jalapeno pepper, minced
1 (4 oz) can chopped green chiles, drained
1 cup shredded sharp cheddar cheese
Preheat oven to 400 degrees. Spray an 8×8 baking dish with nonstick spray.
Combine cornmeal, flour, baking powder, and salt in large bowl and whisk together.
In another bowl, whisk the egg, buttermilk, and honey together.
Add egg mixture to dry ingredients. Stir until just mixed.
Add onion, corn, jalapeno, green chiles, and cheese and fold into batter until mixed. Pour into baking dish.
Bake for 25-30 minutes, until golden brown and until a toothpick inserted in the center comes out clean.
Let the cornbread cool and then remove from the pan and slice.
Recipe by
Flying on Jess Fuel
at https://www.jessfuel.com/2011/11/03/cheddar-jalapeno-cornbread/