Chocolate Chip Sunbutter Cookies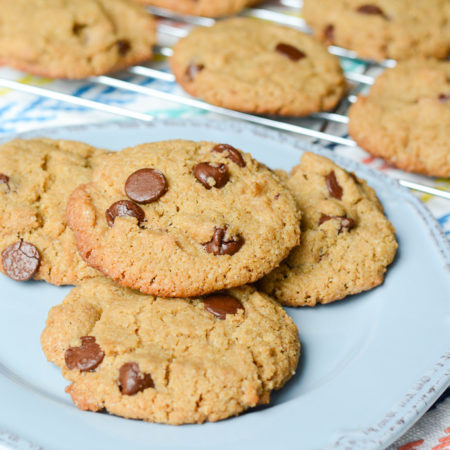 1¼ cups all purpose flour
¾ tsp baking soda
½ tsp baking powder
¼ tsp salt
1 stick unsalted butter, room temperature
1 cup unsweetened sunflower seed butter
¾ cup sugar
½ cup brown sugar
1 egg
1 tbsp milk
1 tsp vanilla extract
¾ cup chocolate chips
Preheat oven to 350 degrees.
In a medium bowl, combine flour, baking soda, baking powder, and salt. Set aside.
Add the butter and sunflower seed butter to the bowl of a mixer. Beat until fluffy, about 3 minutes.
Add sugars and continue beating 2 minutes.
Add milk, egg and vanilla and continue beating.
Slowly add the flour mix and mix until everything is well combined.
Fold in the chocolate chips with a spoon.
Dough will be a bit crumbly. Using your hands, form dough into heaping teaspoon sized balls. Place on baking sheet a few inches apart and flatten each ball slightly.
Bake 10-15 minutes, until cookies are barely browned on the bottom edges. They'll seem a little undercooked, but once they cool, they will be PERFECT!
Cool completely on pans. Then enjoy!
Recipe by
Flying on Jess Fuel
at https://www.jessfuel.com/2019/09/18/chocolate-chip-sunbutter-cookies/