Banana Chia Seed Muffins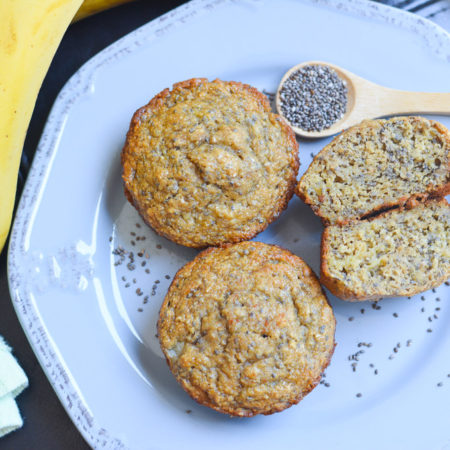 1 cup old fashioned oats
3 medium very ripe bananas, mashed
1 egg
1 tsp vanilla
¼ cup brown sugar
3 tsp baking powder
½ tsp baking soda
¼ tsp salt
1 tsp cinnamon
2 tbsp chia seeds
Preheat oven to 350 degrees. Grease or spray a 12-cup muffin pan and set aside.
Place oats in a blender or food processor, and process until a fine flour forms.
In a large mixing bowl, combine mashed bananas, egg, vanilla and brown sugar.
Add the oat flour, baking powder, soda, salt and cinnamon, and stir to combine.
Add the chia seeds and stir until evenly incorporated.
Scoop batter evenly into 12 muffin cups.
Bake 14 minutes, or until edges are just browned and a toothpick inserted into the center comes out clean.
Let cool in the pan a few minutes and then transfer to a cooling rack.