Greek Zucchini Noodle Salad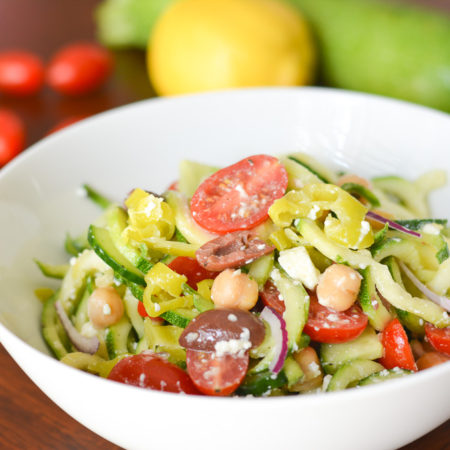 2 large zucchinis
¼ tsp salt
½ English cucumber, quartered lengthwise and thinly sliced
¼ red onion, thinly sliced
1 cup grape tomatoes, halved lengthwise
1 (15 oz) can chickpeas, rinsed and drained
½ cup pitted Kalamata olives, halved
½ cup sliced pepperoncini peppers
½ cup crumbled feta cheese
For the dressing:
Juice of ½ lemon
¼ cup olive oil
2 tsp dijon mustard
¼ tsp dried oregano
Pepper, to taste
Spiralize the zucchinis. Cut any extra long spirals into shorter pieces.
Place in a bowl lined with paper towels. Sprinkle with salt, toss to evenly coat, and set aside for 30 minutes.
Remove damp paper towels from the bowl after 30 minutes.
To the zucchini, add cucumber, onion, tomatoes, chickpeas, olives, pepperoncini and feta. Toss everything together.
In a small bowl or jar, whisk together dressing ingredients.
Pour dressing over salad and toss everything to evenly coat.
Let sit 15 minutes before serving, to get all the flavors melded together!
Recipe by
Flying on Jess Fuel
at https://www.jessfuel.com/2018/08/17/greek-zucchini-noodle-salad/