Creamy Butternut Squash Penne with Bacon and Broccoli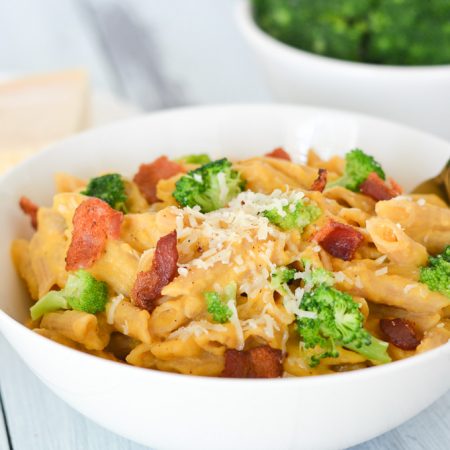 1 lb whole wheat penne
8 slices bacon
1 medium onion, diced
1 medium butternut squash, peeled, seeded and diced
5 cloves garlic, minced
¼ tsp red pepper flakes
2 cups chicken stock
½ cup heavy cream
⅛ tsp ground nutmeg
¼ tsp ground cinnamon
Salt & pepper, to taste
½ cup grated Parmesan cheese
1 medium head broccoli, steamed and cut into bite-sized pieces
Cook pasta according to package directions, drain.
While the pasta is cooking, in a large saute pan, cook bacon until crispy. Remove bacon from pan and let drain on a paper towel. Crumble when cool.
Pour all but about 1 tbsp bacon grease out of pan. Place pan back on the stove over medium heat and add onions. Cook until beginning to soften, about 3 minutes.
Add butternut squash, garlic and red pepper flakes and cook an additional 3-4 minutes until garlic is fragrant.
Add the chicken stock, cover and bring to a boil. Reduce heat and simmer (covered) until squash is tender, about 12-15 minutes.
Transfer cooked squash/onion to a blender and puree until smooth.
Return puree to the saute pan and stir in cream, nutmeg and cinnamon. Season to taste with salt & pepper. Bring to a boil, reduce heat and simmer an additional 5 minutes.
Remove from heat and stir in Parmesan, cooked penne, crumbled bacon and steamed broccoli. Toss to evenly coat with sauce.
Serve topped with extra Parmesan!
Recipe by
Flying on Jess Fuel
at https://www.jessfuel.com/2017/09/28/creamy-butternut-squash-penne-with-bacon-and-broccoli/