Cinnamon Apple Brie Crostini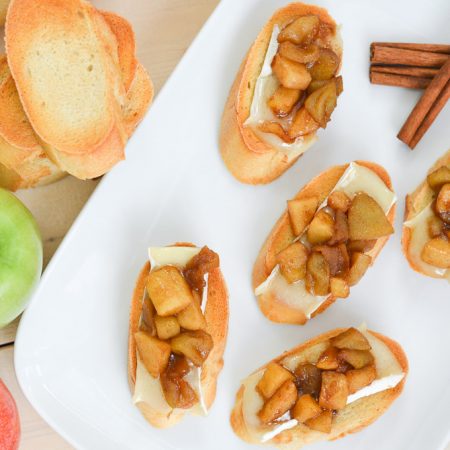 4 tbsp butter
4 apples, peeled, cored and diced
2 tbsp brown sugar
½ tsp cinnamon
1 French baguette
1 small wheel (or wedge) Brie cheese
Preheat the broiler on high.
To make the apple topping, combine butter, apples, brown sugar and cinnamon in a small pot over medium heat. Cook, stirring occasionally, until apples are soft, about 7-8 minutes.
Meanwhile, slice the baguette on an angle into ¼-inch slices. Lay the slices on a baking sheet.
Place the baking sheet in the broiler for 3-5 min, until the bread is just starting to brown. Keep a close eye on them so they don't burn. Remove from oven.
Slice the brie into ⅛-inch thick slices, about the length of the baguette slices. Lay the brie slices on the baguette.
Place the baking sheet back under the broiler for about 1 minute, until the Brie is just starting to melt. Remove from oven.
Top each of the baguette slices with a spoonful of apple topping.
Serve while warm!
Recipe by
Flying on Jess Fuel
at https://www.jessfuel.com/2017/09/14/cinnamon-apple-brie-crostini/