Pumpkin Chia Seed Muffins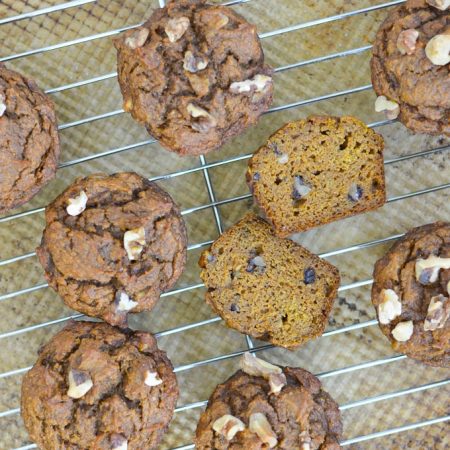 1 tbsp chia seeds
1½ cups white whole wheat flour
2 tsp cinnamon
¼ tsp nutmeg
2 tsp baking soda
½ tsp salt
1 (15 oz) can pumpkin puree
2 eggs
½ cup avocado oil (or canola or olive oil)
1 cup maple syrup
1 tbsp vanilla extract
½ cup chopped walnuts (optional)
Preheat oven to 350 degrees. Spray a 12-cup muffin tin with nonstick spray (or line with cupcake liners) and set aside.
Use a spice grinder, coffee grinder, or mortar and pestle to finely grind the chia seeds.
In a large bowl, whisk together ground chia seed, flour, spices, baking soda and salt.
In another bowl, combine pumpkin, eggs, oil, maple syrup and vanilla extract.
Pour the wet ingredients into the dry ingredients and mix until just combined.
Fold in walnuts, if using.
Divide batter evenly between 12 muffins cups.
Bake 25-30 minutes, until a toothpick inserted into the center of muffins comes out clean.
Cool in the pan 5 minutes, then transfer to a wire rack.
Recipe by
Flying on Jess Fuel
at https://www.jessfuel.com/2017/04/12/pumpkin-chia-seed-muffins/