Raspberry Chocolate Chip Yogurt Bread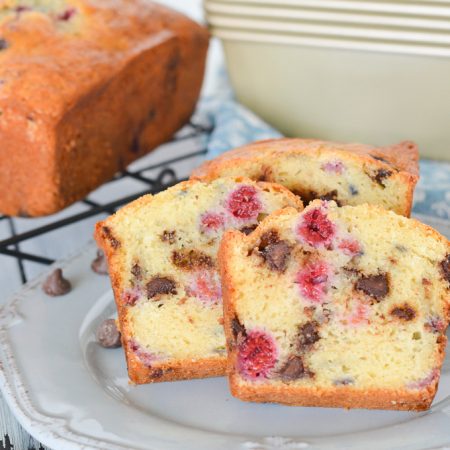 2 cups all-purpose flour
1 tsp baking soda
1 tsp baking powder
½ tsp salt
2 eggs
¾ cup sugar
1¼ cups plain yogurt
¼ cup butter, melted
½ tsp almond extract
¾ cup raspberries, fresh or frozen
¾ cup chocolate chips
Preheat oven to 375. Grease 3 mini loaf pans (5½ x 3-inch) and set aside.
In a large bowl, whisk together flour, baking soda and powder, and salt.
In another bowl, whisk together eggs, sugar, yogurt, butter and almond extract.
Pour the wet ingredients into the dry and stir until just combined.
Gently stir in raspberries and chocolate chips.
Divide the batter evenly between the 3 loaf pans.
Bake 30-35 minutes, until tops are golden brown and a toothpick inserted into the center of the loaf comes out clean.
Cool in the pans 10 minutes, then transfer to a wire rack to finish cooling.
Recipe by
Flying on Jess Fuel
at https://www.jessfuel.com/2017/01/04/raspberry-chocolate-chip-yogurt-bread/