Chocolate-Drizzled Almond Coconut Macaroons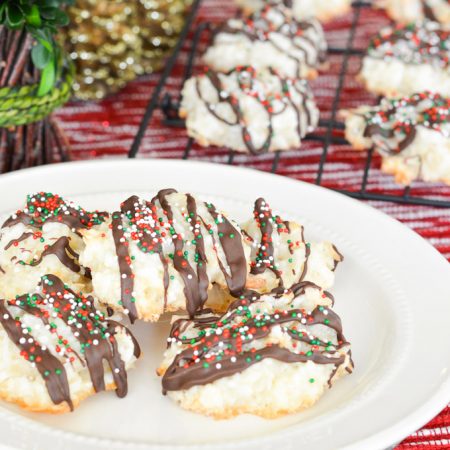 2⅔ cups sweetened flaked coconut
⅔ cup sugar
¼ cup + 2 tbsp flour
¼ tsp salt
4 egg whites
1 tsp almond extract
1 cup semi-sweet chocolate chips
1 tsp coconut oil
Sprinkles, optional
Preheat oven to 325 degrees. Line two baking sheets with parchment paper or silicone mats, and set aside.
In a large bowl, combine coconut, sugar, flour and salt.
Add the egg whites and almond extract and stir to mix well.
Drop tablespoons of coconut mix onto prepared baking sheets. (The cookies won't spread much so you can put them pretty close together.)
Bake 15-20 minutes, until just starting to turn golden brown on the tops and bottoms.
Cool on the pan 10 minutes, then transfer to a wire rack to finish cooling.
When the cookies are completely cool, place the chocolate chips and coconut oil in a small microwave-safe bowl, and microwave 30 seconds. Stir, then cook another 30 seconds and stir. Repeat in 10 second intervals until chocolate is melted and smooth.
Drizzle chocolate over cookies and top with sprinkles, if desired. Let cool completely and then store in an airtight container.
Recipe by
Flying on Jess Fuel
at https://www.jessfuel.com/2016/12/14/almond-coconut-macaroons/