Chicken, Bacon and Brussels Sprout Baked Penne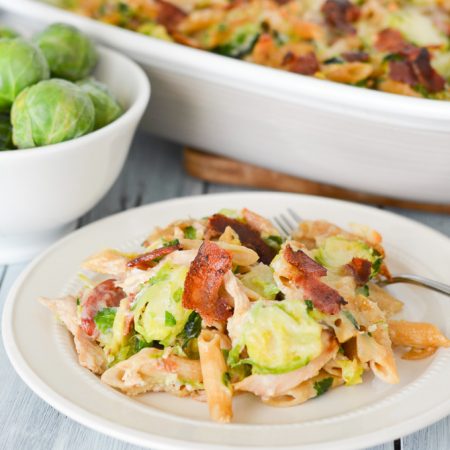 1 lb shredded brussels sprouts
1 lb Barilla Whole Grain penne pasta
1 tbsp olive oil
1 large onion, diced
5 cloves garlic, minced
1 whole rotisserie chicken, bones and skin removed, shredded
2 tbsp butter
2 tbsp flour
2 cups milk
2½ cups shredded white cheddar cheese, divided
1¼ cups grated Parmesan cheese, divided
Salt & pepper, to taste
12 slices cooked bacon, roughly chopped
Bring a large pot of water to a boil. Add the shredded brussels sprouts to the boiling water and boil for 2 minutes until bright green and tender crisp. Drain in a colander and rinse with cold water, pressing out as much water as possible.
Add more water to fill the pot back up for the pasta and return to a boil. Cook the penne to al dente, about 9 minutes. Drain and set aside.
Meanwhile, heat the olive oil in a large skillet over medium heat. Add the onions and garlic and saute, stirring occasionally, until soft, about 5-7 minutes. Add the shredded chicken, toss everything together and cook 1 minute until chicken is warmed. Remove from heat.
Preheat oven to 350 degrees.
In a medium sauce pot, melt the butter and add the flour to it. Cook for 3 or 4 minutes, stirring constantly, until it smells toasty and is just beginning to turn golden. Whisk in the milk and bring to a boil. When the milk comes to a boil, stir in 2 cups of cheddar cheese and 1 cup of Parmesan. Once cheese is melted, remove from heat. Season with salt & pepper, to taste.
In a large bowl (or the pasta pot), combine pasta, brussels sprouts, chicken mixture, bacon and cheese sauce. Toss everything to combine and transfer to a 9x13 inch casserole dish. Top with remaining cheeses.
Bake 10 minutes uncovered, until cheese is bubbly and penne is heated through. Note: If you refrigerate the penne prior to baking, bake for 20 minutes covered with foil, then 10 minutes uncovered.
Recipe by
Flying on Jess Fuel
at https://www.jessfuel.com/2016/11/14/chicken-bacon-and-brussels-sprout-baked-penne/