Chai Spiced Banana Bread Baked Oatmeal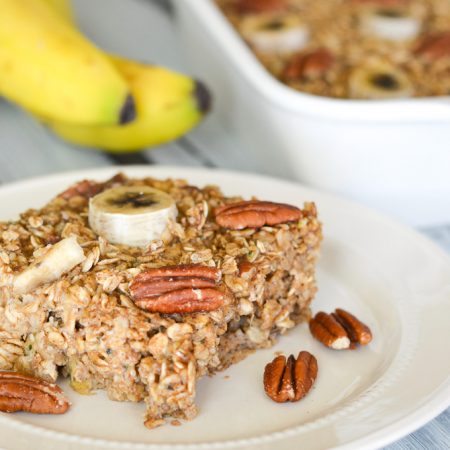 3 cups old fashioned oatmeal
1 tsp baking powder
¼ tsp salt
1 tsp ground cinnamon
1 tsp ground ginger
½ tsp ground cardamom
½ tsp ground allspice
½ tsp ground cloves
2 ripe bananas, mashed
2 eggs
¼ cup brown sugar
1 tsp vanilla extract
1½ cups milk
¼ cup butter, melted and cooled slightly
¾ cup roughly chopped pecans (optional)
Preheat over to 350 degrees. Spray a 9-inch square baking dish with nonstick spray and set aside.
In a large bowl, mix together oatmeal, baking powder, salt and spices.
In another bowl, whisk together banana, eggs, brown sugar and vanilla. Then whisk in milk and melted butter.
Pour the wet ingredients into the dry and stir until combine. Fold in the pecans.
Pour into prepared baking dish and bake 30-35 minutes until center is set and edges are just beginning to brown.
Let cool 5 minutes, then cut and serve.
Recipe by
Flying on Jess Fuel
at https://www.jessfuel.com/2016/11/05/chai-spiced-banana-bread-baked-oatmeal/