Slow Cooker Butternut Squash Soup with Blue Cheese and Bacon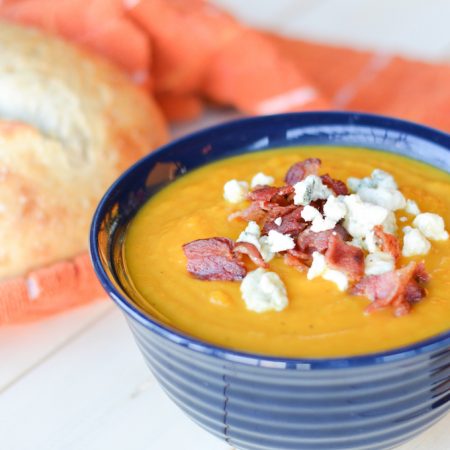 2 small (or 1 large) butternut squash, peeled, seeded and diced (about 6 cups)
3 medium carrots, peeled and cut in 1-inch pieces
1 large onion, diced
2 cups vegetable or chicken stock
½ tsp dried marjoram
⅛ tsp cayenne pepper
⅛ tsp ground nutmeg
Salt & pepper, to taste
½ cup heavy cream
1 lb bacon, cooked and crumbled
5 oz package blue cheese crumbles
In a slow cooker, combine butternut squash, carrots, onion, vegetable stock, marjoram, cayenne pepper and ground nutmeg. Season with salt and pepper.
Cook on low 6 hours or high 3½ hours, until veggies are soft and tender.
Using an immersion blender, puree veggies until the soup is uniformly smooth. If you don't have an immersion blender, you can transfer the veggies to a blender or food processor in batches, puree and return to slow cooker.
Stir in heavy cream. Taste and adjust seasoning with salt and pepper.
Serve immediately, topped with bacon and blue cheese. Or cool completely and refrigerate.
Recipe by
Flying on Jess Fuel
at https://www.jessfuel.com/2016/10/26/slow-cooker-butternut-squash-soup-with-blue-cheese-and-bacon/