Pumpkin Spice Brown Butter Sea Salt Cookies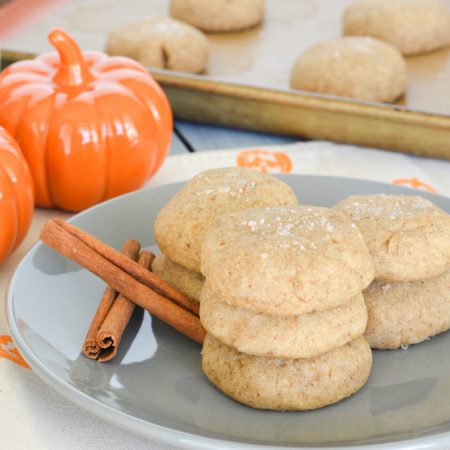 ¾ cup (1½ sticks) unsalted butter
½ cup brown sugar
1 tsp vanilla extract
1½ cups flour
1 tsp baking soda
½ tsp salt
1 tsp ground cinnamon
½ tsp ground ginger
¼ tsp ground allspice
⅛ tsp ground nutmeg
Coarse sea salt
Preheat the oven to 325 degrees. Line a baking sheet with a silpat or parchment paper.
Heat the butter in a medium pan over medium-low heat. Once the butter is melted, keep an eye on it, stirring constantly. Cook until the bits of milk solids are golden brown, about 7-10 minutes. Remove from heat and continue stirring while the carry-over heat cooks the butter to a toasty brown.
Transfer the brown butter to a large mixing bowl.
Add brown sugar and vanilla and stir until well combined.
In another bowl, whisk together flour, baking soda, salt and spices.
Pour the butter mixture into the dry ingredients and stir until the dough comes together and is well combined.
Roll the dough into about 15 1-inch balls and place on lined baking sheet. Flatten each ball slightly. Sprinkle each with sea salt.
Bake 15 minutes. Cool cookies completely, then serve or transfer to an airtight container.
Recipe by
Flying on Jess Fuel
at https://www.jessfuel.com/2016/10/06/pumpkin-spice-brown-butter-sea-salt-cookies/