Lemon Cream Cheese Danish Braid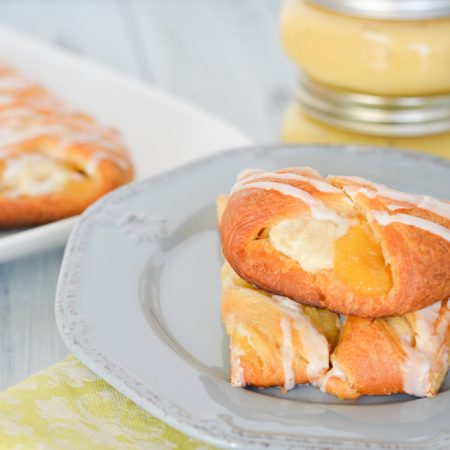 1 can refrigerated crescent roll dough
4 oz cream cheese, at room temperature
¼ cup sugar
1½ tbsp flour
½ tsp vanilla extract
8 oz jar lemon curd
For the glaze:
½ cup powdered sugar
1 - 2 tbsp lemon juice
Preheat oven to 375 degrees.
Using an electric mixer, cream together cream cheese, sugar, flour and vanilla extract.
Roll the crescent roll dough out onto a parchment or silpat-lined baking sheet. Pinch the seams together as much as possible to make one solid piece of dough.
Spread the cream cheese mixture and the lemon curd long-ways down the center of the dough (see photo below).
Using a sharp knife, cut ½-inch strips from the filling to the edge of the dough on both sides (see photo below).
Starting at one end, fold the strips into the center, overlapping them over the middle of the filling.
Once you get to the middle, start at the other end and fold remaining strips towards the middle in the same manner.
Bake 25-30 minutes until dough is golden. Let cool completely on the baking sheet.
To make the glaze, whisk the powdered sugar with 1 tbsp lemon juice. Add additional lemon juice until the glaze is runny enough to drizzle.
Carefully move the braid to a wire rack and drizzle with glaze. Once the glaze sets, move the braid to a cutting board, slice and serve.
Recipe by
Flying on Jess Fuel
at https://www.jessfuel.com/2016/09/15/lemon-cream-cheese-danish-braid/