Buffalo Cauliflower Pizza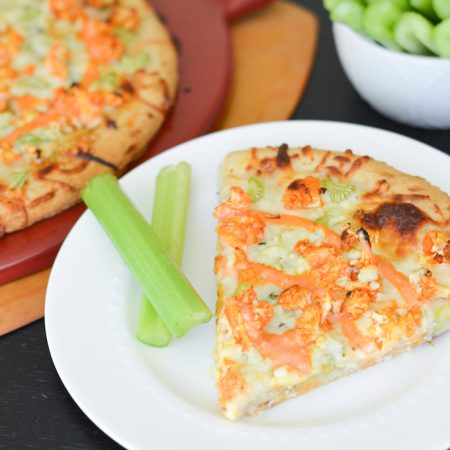 ½ large head cauliflower
1 tbsp olive oil
¼ cup + 1 tbsp buffalo sauce (such as Frank's RedHot), divided
1 premade pizza crust (such as Boboli), or use homemade
3 tbsp Ranch or blue cheese dressing, divided
1½ cups shredded mozzarella cheese
1 large stalk celery, thinly sliced
¼ cup blue cheese crumbles
Preheat oven to 400 degrees.
Cut the cauliflower into medium-sized pieces. Toss with olive oil and spread on a baking sheet. Roast the cauliflower in the preheated oven about 25 minutes, until tender and beginning to brown.
Remove cauliflower from oven (leave oven on) and let cool slightly. Chop into small pieces, then toss with ¼ cup buffalo sauce and set aside.
Spread 2 tbsp Ranch dressing on the pizza crust, then sprinkle mozzarella evenly over top.
Top pizza with celery, cauliflower and blue cheese crumbles.
Bake pizza about 15 minutes until bubbly and beginning to brown (longer if you are using homemade or raw dough).
In a small Ziplock bag, combine remaining 1 tbsp of Ranch and 1 tbsp of buffalo sauce. Mix well, then snip off a corner of the bag and drizzle over pizza.
Recipe by
Flying on Jess Fuel
at https://www.jessfuel.com/2016/09/06/buffalo-cauliflower-pizza/