Raspberry Lime Loaf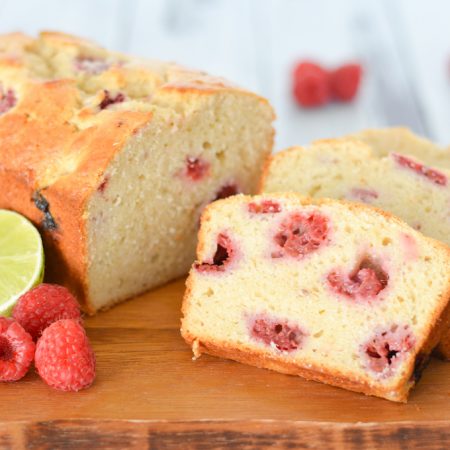 2 cups + 1 tablespoon flour, divided
2 tsp baking powder
½ tsp salt
2 eggs
½ cup coconut oil
2 tsp vanilla extract
1 cup sugar
¾ cup buttermilk
Juice & zest of 1 lime
1 cup fresh raspberries
Preheat oven to 350 degrees. Grease or spray a 9x5 inch loaf pan with nonstick spray and set aside.
In a small bowl, toss raspberries with 1 tbsp flour until evenly coated.
In a large bowl, combine flour, baking powder and salt.
In another bowl, whisk together eggs, oil, vanilla, sugar, buttermilk, lime juice and zest.
Pour the wet ingredients into the dry and stir until just combined.
Carefully fold in flour coated raspberries.
Spread batter evenly in prepared pan.
Bake 55-60 minutes, until top is golden and a toothpick inserted into the center comes out clean.
Cool in the pan 10 minutes and then transfer to a wire rack to finish cooking.