Zucchini Coffee Cake Muffins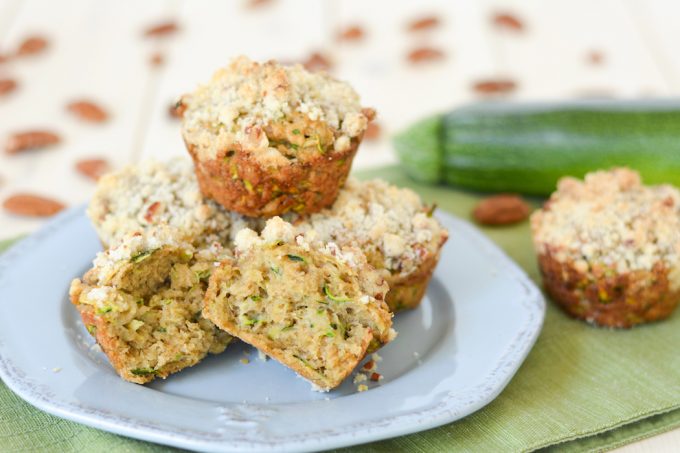 Author:
Flying on Jess Fuel
For the crumb topping:
¾ cup flour
½ cup sugar
½ cup roughly chopped pecans
6 tbsp coconut oil
For the muffins:
2½ cups flour
1 tsp baking powder
½ tsp baking soda
½ tsp salt
1 tsp cinnamon
3 large eggs, at room temperature
½ cup coconut oil, at room temperature
¾ cup brown sugar
½ cup sugar
3 cups shredded zucchini
Preheat over to 350 degrees. Spray 18 cups of muffin tins with nonstick spray and set aside.
To make the crumb topping, mix flour, sugar and walnuts in a small bowl. Add the coconut oil and use your fingers to mix everything together until a coarse crumb forms. Set aside.
In a large bowl, mix together flour, baking powder, soda, salt and cinnamon.
In another bowl, whisk together eggs and oil. Add sugar and brown sugar and whisk until dissolved. Add the zucchini and stir together.
Add the wet ingredients to the dry and stir until evenly mixed (it may seem too dry at first but it will all come together as you mix).
Divide batter evenly between 18 muffin cups. Sprinkle crumb topping evenly over the muffins.
Bake 25-30 minutes, or until crumb is golden and a toothpick inserted into the center of a muffin comes out clean.
Recipe by
Flying on Jess Fuel
at https://www.jessfuel.com/2016/07/11/zucchini-coffee-cake-muffins/