Piña Colada Oatmeal Muffins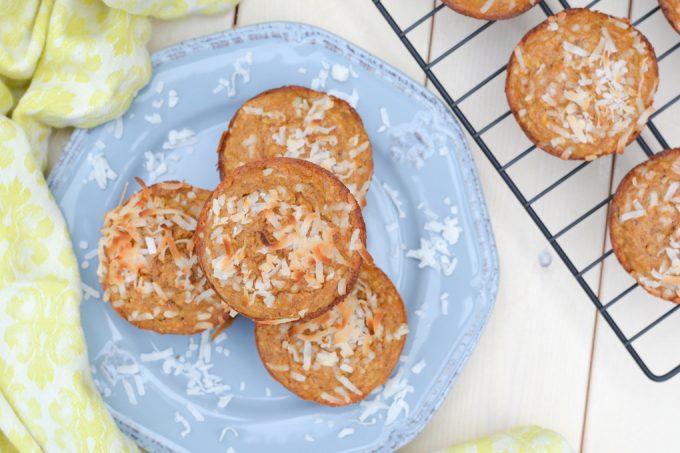 Author:
Flying on Jess Fuel
1¼ cups old fashioned oatmeal
¾ cup whole wheat flour
2 tbsp ground flax seed
2 tsp baking powder
½ tsp baking soda
½ tsp salt
½ cup coconut sugar (or brown sugar)
2 eggs
½ cup pineapple juice (reserved from can)
1 tsp vanilla extract
⅓ cup coconut butter
1 (20 oz) can pineapple chunks, drained and juice reserved
Shredded coconut, for topping
Preheat oven to 375 degrees. Spray a 12-cup muffin tin with nonstick spray and set aside.
Place oatmeal in a food processor (or heavy duty blender) and process until it's the consistency of a slightly chunky flour.
Add whole wheat flour, flax seed, baking powder, soda, salt and sugar to the food processor and pulse a few times to combine.
Add the eggs, pineapple juice, vanilla and coconut butter. Process until smooth. Add the pineapple chunks and pulse a few times to just barely break up the pineapple.
Divide the batter evenly among 12 muffin cups. Sprinkle tops with shredded coconut.
Bake 20-25 minutes, until edges are golden and a toothpick inserted comes out clean.
Cool a few minutes in the muffin tin, then transfer muffins to a wire rack.
Recipe by
Flying on Jess Fuel
at https://www.jessfuel.com/2016/05/17/pina-colada-oatmeal-muffins/