Mango Shrimp Tostadas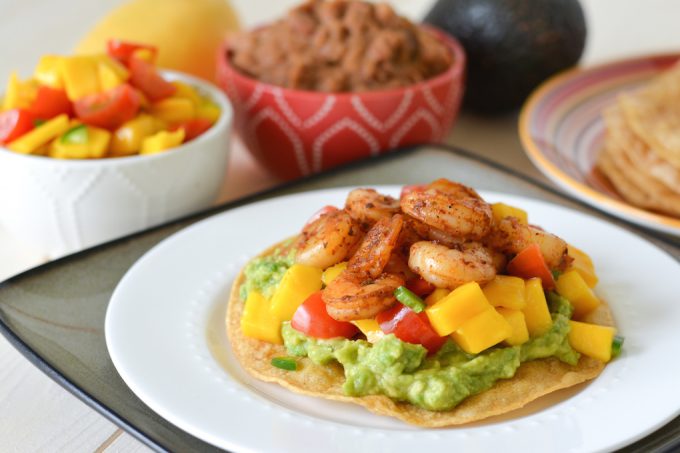 Author:
Flying on Jess Fuel
6 corn tortillas
Olive oil
Salt
1 lb medium raw shrimp, peeled and deveined
1 tbsp chili powder
½ tbsp cumin
½ tbsp oregano
½ tsp cayenne pepper (optional)
2 large avocados
2 large mangoes, peeled and diced
1 pint grape or cherry tomatoes, quartered
1 medium jalapeno, seeded and minced
Juice of half a lime
Preheat oven to 400 degrees.
Lay corn tortillas on baking sheets and brush each side liberally with olive oil. Sprinkle with salt.
Bake tortillas until crispy, about 10 minutes, flipping over once halfway through.
Meanwhile, heat 1 tsp olive oil in a large skillet over medium high heat. Add the shrimp, chili powder, cumin, oregano and cayenne. Season with salt, to taste. Cook, stirring occasionally, until shrimp is cooked through, about 5-7 minutes.
Peel avocado, remove pit, and smash in a bowl with a fork. Season to taste with salt.
In another bowl, toss together mango, tomato, jalapeno and lime juice.
To assemble tostadas: Layer crispy tortillas with smashed avocado, mango salsa and shrimp.
Serve immediately.