Rainbow Edamame Slaw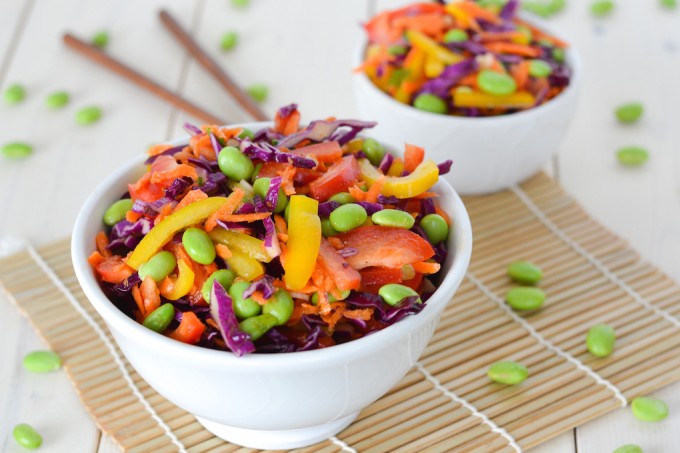 Author:
Flying on Jess Fuel
For the dressing:
¼ cup rice vinegar
¼ cup olive oil
1 tbsp sesame oil
1 tbsp honey
¼ tsp ground ginger
¼ tsp cayenne pepper (optional)
½ tsp garlic powder
For the salad:
½ head purple cabbage, shredded
1 red bell pepper, finely sliced
1 yellow bell pepper, finely sliced
3 large carrots, shredded
5 green onions, thinly sliced
1 cup frozen shelled edamame (steamed according to package directions and cooled)
Salt & pepper, to taste
Place all of the dressing ingredients in a jar with a lid and shake vigorously to combine. (You can also whisk together in a bowl.)
In a large bowl, toss together cabbage, peppers, carrots, onions and edamame.
Pour dressing over top and toss to coat.
Season to taste with salt & pepper.
Let sit at least 15 minutes to let flavors soak into veggies. Toss the slaw again before serving.