Wintergreen Soup with Split Peas and Ham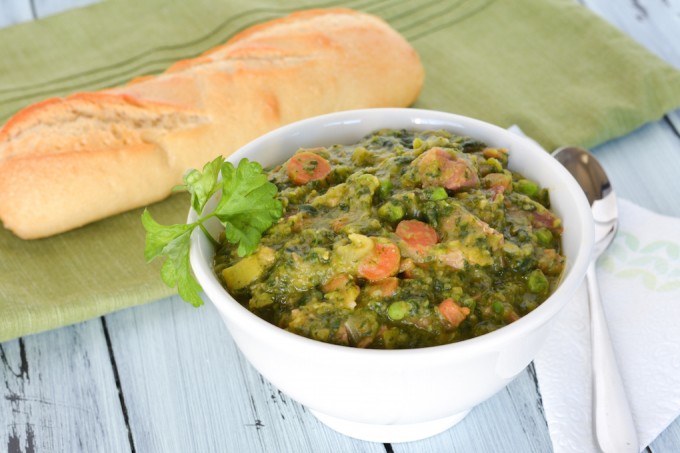 1 lb dried green split peas, rinsed
6 cups chicken stock
1 meaty ham bone (or 2 ham hocks or 1 ham steak)
2 parsley springs, roughly chopped
1 bay leaf
¼ tsp dried thyme
2 tbsp butter
2 celery ribs with leafy tops, diced
3 medium carrots, diced
1 small onion, diced
2 large leeks (whites only), halved lengthwise, thinly sliced, and rinsed well
1 (10 oz) package frozen spinach, defrosted
1 (10 oz) package frozen peas
Salt & pepper, to taste
Add the split peas and chicken stock to a large stock pot and bring to a boil over medium-high heat. Add the ham bone, parsley, bay leaf and thyme, reduce heat and simmer, partially covered, for 45 minutes, stirring occasionally.
Meanwhile, melt the butter over medium heat in a large saute pan or Dutch oven. Add the celery, carrots, onion and leeks and saute until soft, 20-25 minutes. Transfer the cooked vegetables to the stock pot, along with the spinach and frozen peas. Stir everything together (the soup will already be a bit thick), and simmer until the split peas are tender, 25-30 minutes.
Remove the ham bone and let cool slightly. Shred the meat from the bone and set aside.
Process 1 cup of the soup in a blender or food processor until smooth (you can also use an immersion blender and blend directly in the pot). Stir the puree and shredded ham back into the soup, and season with salt and pepper.
Return the soup to a simmer to warm everything through, then serve immediately with bread for dipping!
Recipe by
Flying on Jess Fuel
at https://www.jessfuel.com/2016/04/04/wintergreen-soup-with-split-peas-and-ham/