Twice Baked Reuben Potatoes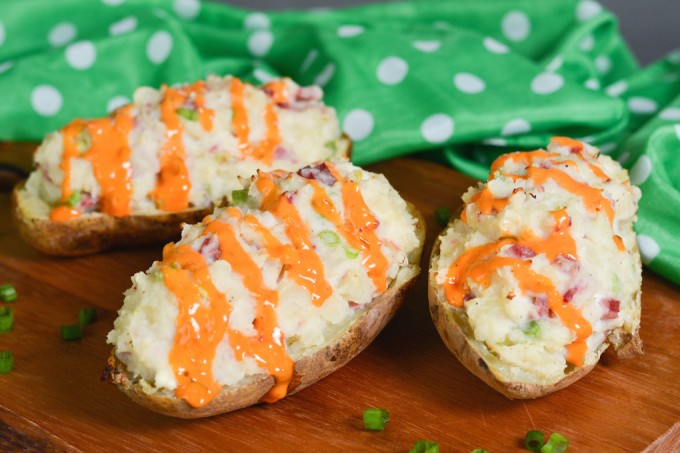 Author:
Flying on Jess Fuel
4 large baking potatoes
1⅓ cup low-fat buttermilk
4 oz cream cheese
2 tbsp butter
5 scallions, finely chopped
1 cup finely diced cooked corned beef
1 cup drained and squeezed dry sauerkraut
½ tsp salt
Fresh ground pepper, to taste
Thousand Island dressing
Preheat oven to 375°. Bake potatoes for 1 hour or until tender. Cool 10 minutes or until cool enough to handle. Cut each potato in half lengthwise and scoop out pulp, leaving a ¼-inch-thick shell. (You will only use 6 shells, so you can scoop everything from one whole potato).
Place potato pulp and remaining ingredients in a bowl and beat with a mixer at medium speed until well blended.
Evenly distribute potato mixture between 6 of the potato shells. Arrange stuffed shells on a baking sheet.
Bake at 375° for 20 minutes or until thoroughly heated.
Drizzle with Thousand Island dressing and serve.
Recipe by
Flying on Jess Fuel
at https://www.jessfuel.com/2016/02/21/twice-baked-reuben-potatoes/