Smoky Venison Chili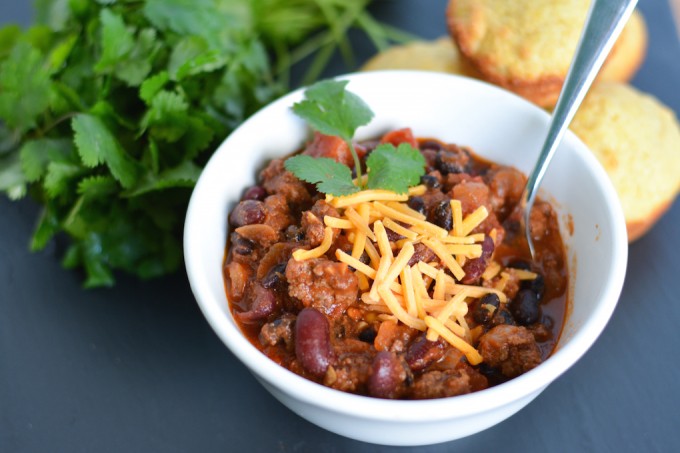 Author:
Flying on Jess Fuel
2 tbsp olive oil
1 onion, diced
4 cloves garlic, minced
1 lb ground venison
1 tbsp chili powder
1 tsp ground chipotle pepper
2 tsp ground cumin
1 tsp smoked paprika
1 tsp salt
1 (14.5 oz) can diced tomatoes
1 (8 oz) can tomato sauce
1 cup beer
1 (15 oz) can black beans, rinsed and drained
1 (15 oz) can dark red kidney beans, rinsed and drained
Heat the olive oil in a dutch oven or large pot over medium heat. Add the onions and garlic and cook until beginning to soften, about 5-6 minutes. Move the onions to one side of the pot and add the venison, breaking it up with a wooden spoon or spatula. Cook until browned, about 5 minutes.
Add chili powder, chipotle, cumin, paprika and salt, stir and cook 1-2 minutes until spices are fragrant.
Add tomatoes, tomato sauce and beer, stirring to pick up any browned bits from the bottom of the pot. Add beans and stir to combine.
Bring the chili to a simmer and simmer, stirring occasionally, 20 minutes.
Serve with cornbread, topped with cheese, green onions and/or cilantro!