Coconut Curry with Shrimp and Veggies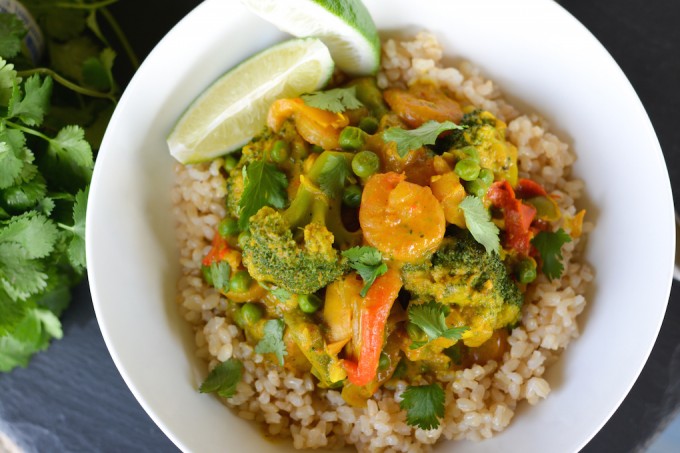 Author:
Flying on Jess Fuel
1 can coconut milk
2 tbsp yellow curry powder
1 tbsp minced fresh ginger
5 cloves garlic, minced
¼ tsp ground cayenne
Salt & pepper, to taste
1 tbsp olive oil
1 onion, diced
1 (14 oz) pkg frozen broccoli florets
2 cups frozen bell pepper strips
1 cup frozen peas
16 oz frozen shrimp (peeled, deveinened and tail-off)
2 cups cooked rice, for serving
Fresh cilantro, for serving
Lime wedges, for serving
In a bowl, whisk together coconut milk, curry powder, ginger, garlic and cayenne. Season with salt and pepper. (Note: some curry powders contain salt, some do not, so taste before adding salt.) Set aside.
Heat olive oil in a large saute pan or dutch oven over medium heat. Add the onion and cook, stirring occasionally, until beginning to soften, about 5 minutes. Add the frozen vegetables and shrimp, and cook, stirring occasionally, until most of the liquid is cooked out (a little bit left in the pan is OK), and shrimp are cooked through, about 10 minutes.
Pour the sauce into the pan and stir to coat veggies and shrimp. Bring to a simmer and cook 5 minutes, stirring. Taste and adjust salt and pepper, if needed.
Serve over rice, topped with fresh cilantro and lime wedges!
Recipe by
Flying on Jess Fuel
at https://www.jessfuel.com/2016/01/20/coconut-curry-with-shrimp-and-veggies/