Bourbon Walnut Persimmon Bread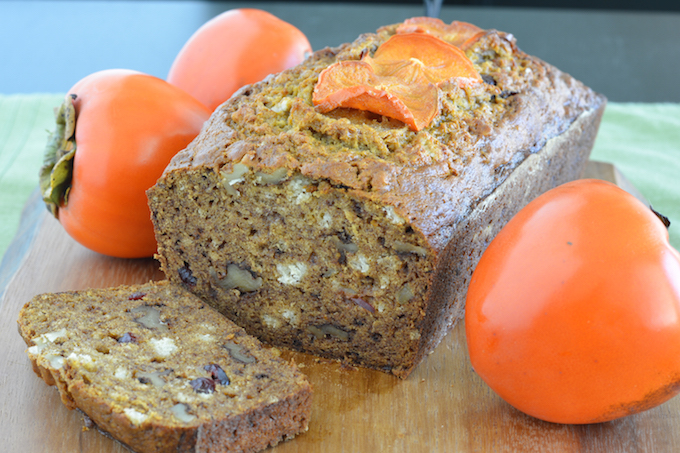 Author:
Flying on Jess Fuel
4-5 large ripe persimmons
3½ cups all purpose flour
2 tsp baking soda
1 tsp salt
1 tsp ground nutmeg
2 cups sugar
1 cup coconut oil, melted and cooled slightly
4 large eggs
⅔ cup bourbon
2 cups walnuts, toasted
2 cups dried cranberries
Preheat oven to 350 degrees. Spray 2 loaf pans with nonstick spray and set aside.
Remove stems and peels from persimmons and place in a food processor or blender (if there are still little bits of peel on them, that's ok, just remove the majority). Blend into a smooth puree.
In a large bowl, sift together flour, baking soda, salt, and nutmeg. Add sugar and stir lightly to combine.
In another bowl, whisk together coconut oil, eggs, bourbon and 2 cups of the persimmon puree.
Add the wet ingredients to the dry and stir until just combined. Stir in walnuts and cranberries.
Pour the batter evenly into the 2 prepared loaf pans. Bake 60-70 minutes, until a toothpick inserted into the center comes out clean. Cool in the pans until cool enough to handle, then transfer to a wire rack to finish cooling.
Recipe by
Flying on Jess Fuel
at https://www.jessfuel.com/2016/01/07/bourbon-walnut-persimmon-bread/