Spinach Lasagna Rolls with Easy Meat Sauce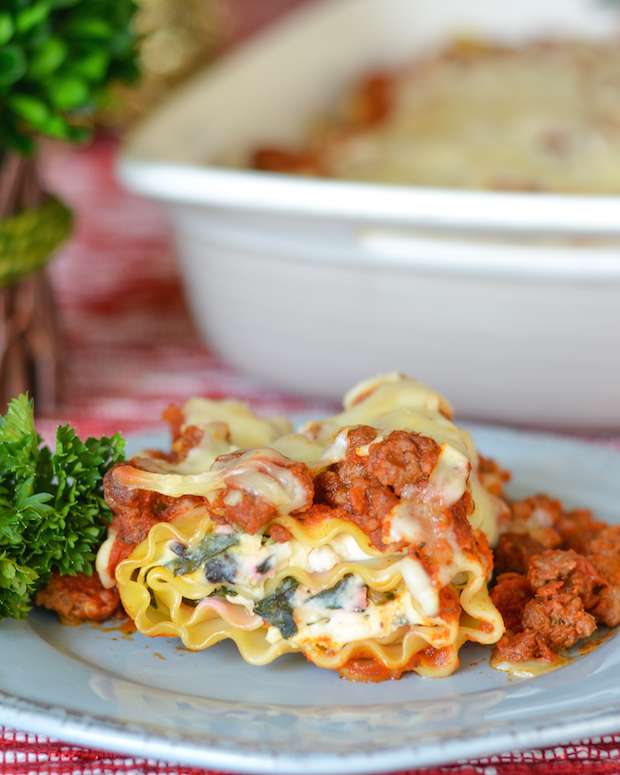 Author:
Flying on Jess Fuel
1 lb lasagna noodles
1 lb ground beef
1 (24 oz) jar marinara sauce
1 (14.5) oz can diced tomatoes
¼ tsp red pepper flakes (optional)
30 oz ricotta cheese
10 oz pkg chopped frozen spinach, defrosted and squeezed dry
½ cup grated Parmesan cheese
2 eggs
Salt & pepper, to taste
8 oz shredded mozzarella cheese
Preheat oven to 350 degrees.
Boil lasagna noodles according to package directions.
Meanwhile, cook ground beef in a large saute pan over medium-high heat, crumbling it up, until browned and cooked through. Drain excess grease, then return to stove and add marinara sauce, diced tomatoes and red pepper flake. Bring to a simmer, stirring, and cook 3 minutes to incorporate flavors. Remove from heat.
In a medium bowl, combine ricotta, spinach, Parmesan and eggs. Season with salt & pepper and stir until well combined.
Spread a thin layer of the meat sauce in the bottom of a large baking dish or two (I used one 8-inch square pan and one 9 x 13 inch pan).
Spread a thin layer of ricotta mixture along each lasagna noodle. Starting at one end, roll the ricotta-covered noodles up. Place rolls into the baking dishes.
Cover rolls with remaining meat sauce, then sprinkle mozzarella cheese over top.
Cover with tin foil and bake 30 minutes. Remove foil and bake an additional 10 minutes, until cheese is melted and bubbly.
Enjoy!
Recipe by
Flying on Jess Fuel
at https://www.jessfuel.com/2015/12/19/spinach-lasagna-rolls-with-easy-meat-sauce/