Pineapple Quinoa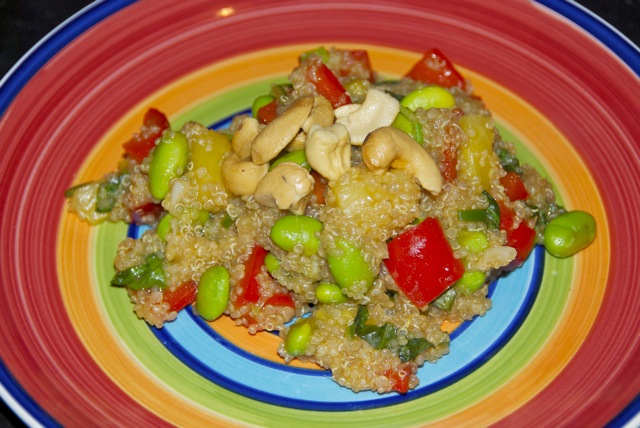 1 cup quinoa
1 cup pineapple juice
1 cup water
2 tbsp + ½ tsp soy sauce
2 tbsp canola oil
1 red bell pepper, seeded and diced
1 cup cooked edamame
2 scallions, thinly slices
2 cloves garlic, minced
1 serrano pepper, seeded and finely chopped
1 inch piece of ginger root, grated
1 cup pineapple tidbits
½ cup loosely packed basil, finely chopped
cashew halves & pieces, for topping
Combine the quinoa, pineapple juice, ½ teaspoon of soy sauce and water in a medium saucepan. Bring to a boil, reduce heat to a simmer, cover and cook for about 15 minutes or until the liquid is absorbed.
Heat the canola oil in a skillet over medium-high heat. Stir in the bell pepper and edamame and stir fry for about 3 minutes, until pepper is slightly softened.
Stir in the scallions, garlic, ginger, and serrano and cook until fragrant, about 1-2 minutes.
Add pepper mixture, pineapple and remaining soy sauce to pot of quinoa. Place pot over medium heat. Toss to mix everything.
Fold in the basil and continue to cook for a few minutes more until everything is well blended and heated through.
Serve topped with cashews.