Ginger Wasabi Snack Mix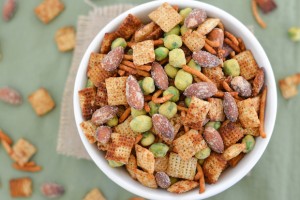 Author:
Flying on Jess Fuel
3 cups crispy rice squares cereal
1½ cups chow mein noodles
¼ cup butter
2 tbsp rice vinegar
1 tbsp soy sauce
¾ tsp ground ginger
¼ tsp cayenne pepper
1 cup wasabi peas
1 cup Blue Diamond Wasabi & Soy Sauce Almonds
Preheat oven to 300 degrees.
In a large bowl, toss together rice cereal and chow mein noodles.
Melt butter in a small saucepan over medium heat. Add rice vinegar, soy sauce, ginger and cayenne, whisking together. Bring to a boil, then remove from heat.
Pour melted butter mixture over rice cereal and chow mein noodles, and stir to evenly coat.
Spread mixture out evenly on a rimmed baking sheet. Bake 25-30 minutes, stirring every 8-10 minutes, until mixture is lightly browned and no longer wet.
Let cool on pan, then transfer to a bowl and toss with wasabi peas and almonds.
Serve immediately or store in an airtight container.