Shrimp Scampi Zoodles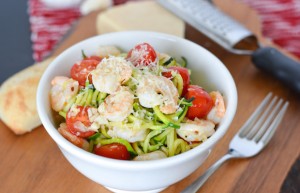 Author:
Flying on Jess Fuel
2 tbsp olive oil, divided
4 medium zucchini, spiralized
3 tbsp butter, divided
8 garlic cloves, minced
¼ tsp red pepper flakes
8 oz raw peeled and deveined shrimp, defrosted
Juice of 1 lemon
Salt & pepper
1 cup cherry or grape tomatoes, halved
Fresh Parmesan cheese
In a large saute pan over medium-high heat, heat 1 tbsp olive oil. Add the spiralized zucchini and cook, tossing frequently, until just barely tender, about 3 minutes. Transfer the zucchini to a colander over the sink so that the excess moisture can drain off.
In the same pan, heat remaining olive oil and 2 tbsp butter over medium-high heat. Add the garlic and red pepper flakes and cook until garlic is fragrant and barely golden, about 2-3 minutes. Add shrimp and lemon juice to pan and cook, stirring occasionally, until shrimp are pink and cooked through, about 5 minutes. Season with salt and pepper and melt in remaining butter. Return zoodles to the pan along with tomatoes, toss and cook until heated through, about 2 minutes.
Remove from heat and grate some fresh Parmesan cheese over top.
Serve immediately with extra Parmesan and crusty bread for soaking up the sauce.