Mushroom Risotto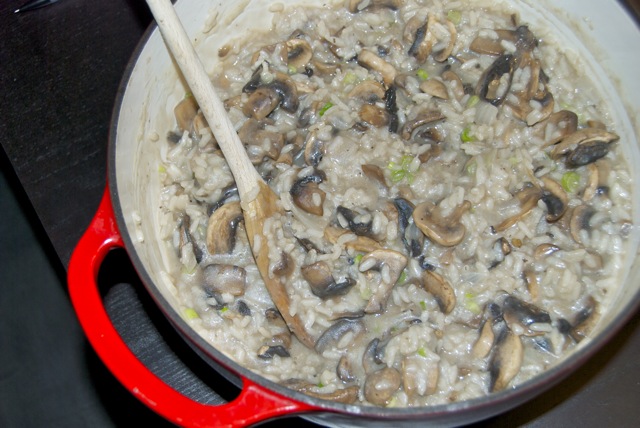 6 cups chicken broth, divided
3 tbsp olive oil, divided
2 lbs fresh mushrooms, sliced
1 small onion, diced
1½ cups Arborio rice
½ cup dry white wine
salt & pepper, to taste
4 scallions, finely chopped
4 tbsp butter
⅓ cup grated parmesan
In a saucepan, warm the broth over low heat.
Warm 2 tablespoons olive oil in a large saute pan over medium-high heat. Stir in the mushrooms, and cook until soft, about 3 minutes. Remove from heat and set aside.
Add 1 tablespoon olive oil to a large pot or dutch oven, and stir in the onion. Cook 2-3 minutes, until slightly soft. Add rice, stirring to coat with oil, and cook about 2 minutes.
When the rice has taken on a pale, golden color, pour in wine, stirring constantly until the wine is fully absorbed. Add ½ cup broth to the rice, and stir until the broth is absorbed. Continue adding broth ½ cup at a time, stirring continuously, until the liquid is absorbed and rice is cooked through.
Remove from heat, and stir in mushrooms with their liquid, butter, and parmesan.
Finally, fold in the scallions and season with salt and pepper.