Cranberry Pecan Cinnamon Rolls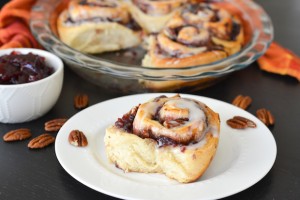 Author:
Flying on Jess Fuel
1 (5-count) pkg Pillsbury Grands!® Sweet Rolls (any cinnamon variety)
1 cup whole berry cranberry sauce (canned or homemade)
½ cup roughly chopped pecans
Preheat oven to 350 degrees. Grease a 9-inch pie dish and set aside.
Open sweet roll package and set icing aside. Separate sweet rolls. One by one, carefully unroll each sweet roll.
Once you have a sweet roll unrolled, spread a thin layer of cranberry sauce along inside of dough strip. Sprinkle some pecans over the cranberry sauce.
Tightly re-roll the sweet roll and set in greased pie dish.
Repeat with remaining sweet rolls.
Bake according to package directions (or about 22-25 minutes) until rolls are golden brown.
Remove from oven and spread icing over top. Serve immediately.
Recipe by
Flying on Jess Fuel
at https://www.jessfuel.com/2015/11/09/cranberry-pecan-cinnamon-rolls/