Elvis Breakfast Cupcakes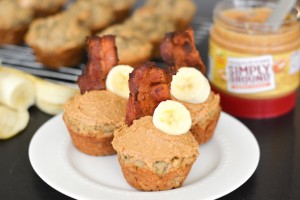 Author:
Flying on Jess Fuel
½ cup butter, softened
¾ cup brown sugar
2 large eggs
1 tsp vanilla extract
4 very ripe bananas
2 cups flour
1 tsp baking soda
¼ tsp salt
1 cup plus 2 tbsp Peter Pan Simply Ground Peanut Butter
6 slices bacon, cooked and cut in half
12 small slices fresh banana, optional
Preheat oven to 350 degrees. Spray a 12-cup muffin tin with nonstick spray and set aside.
Using an electric mixer, cream together butter and sugar until light and fluffy. Add eggs and vanilla and continue beating until smooth. Add banana and mix until banana is just broken up. Add flour, baking soda and salt and mix on a very low speed until incorporated.
Divide batter evenly between 12 muffin cups. Bake 20 minutes, until a toothpick inserted into the center of a muffin comes out clean.
Cool in pan until muffins are cool enough to handle, then transfer to a wire rack to finish cooling.
When muffins have cooled completely, frost each one with about 1½ tbsp peanut butter. Garnish with a piece of bacon and slice of banana, if desired. Serve immediately. Store extra muffins in the fridge and microwave 20-30 seconds to warm.